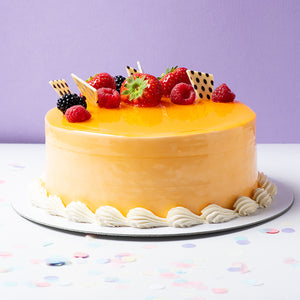 Our Eggless Flavoured Cakes are freshly made in three layers of vanilla sponge filled with flavoured fresh cream of your choice. Decorated with flavoured neutral jelly glazed and topped with fresh berries. 
Our Eggless Flavoured Cakes come in below flavours:

Eggless Banana Flavoured Cake

Eggless Pineapple Flavoured Cake

Eggless Mango Flavoured Cake

Eggless Lemon Flavoured Cake

Eggless Raspberry Flavoured Cake
Try our different varieties of flavoured Cake and get it delivered anywhere in London or collect from our Croydon Eggless Cake Shop. If you have a special flavour request that we don't offer here, please just ask and we see what we can do!

Vanilla Sponge Ingredients: 
WHEAT flour, (WHEAT flour, Calcium carbonate, Iron, Niacin, Thiamin), Sugar, Dextrose, concentrated Whey Protein (MILK), Cocoa powder (5.0%), Raising agents: E500, E450, Whey Powder (MILK), Emulsifiers: E475, E471, E481, Celtulose Fibre, Salt, Flavouring, Stabiliser: E415 

Flavoured Fresh Cream:
Water, Fully & Hydrogenated Vegetable Oil, Sugar, Dextrose, MILK Protein, Emulsifiers: E435, E471 & E322, Acidity Regulators: E331 & E339(ii), Stabilisers E509, E461 & E646, Gelling Agent: E401, Flavouring, Colour: E160a(i).
Mango: Sucrose, Glucose Syrup, Concentrated Mango Juice, Water, Thickener: Modified Corn Starch, Natural Flavour, Citric Acid, Colour: Beta-Carotene Solution, Antioxidant: Ascorbic Acid

Banana: Sugar, Glucose syrup, Banana puree, Glucose-fructose syrup, Banana juice concentrate, Antioxidant: ascorbic acid (E300), Water, Colouring food: concentrates (safflower, lemon), Gelling agent: pectin (E440(ii)), Carrot extract

Pineapple: Pineapple Juice Concentrate (37%), Sugar, glucose syrup, glucose-fructose syrup, water, gelling agent: pectin, antioxidant, ascorbic acid.

Lemon: Natural flavouring substances, flavouring preparations, Sugar, Water, Glucose syrup, Acid: citric acid E330, Lemon Juice concentrate 4%, Citrus fruit cells, Orange Juice concentrate, Acidity regulator: trisodium citrate E331 (iii), Gelling agent: pectin E440 (ii)

Raspberry: Sugar, Raspberry, Glucose-fructose syrup, Colouring foods: concentrates (carrot, blackcurrant), Acid: citric acid (E330), Acidity regulator: trisodium citrate (E331(iii)), Modified starch (E1422).

All our Eggless Flavoured Cakes are baked and decorated fresh and to order at our bakery in Thornton Heath (Norbury). We do not operate a production line or use industrial machinery; all our eggless cakes are freshly baked each day in small batches and hand crafted one order at a time. It takes longer but they taste better.
We do not use nuts in the manufacturing process, but some of our cake designs have nuts as a topping. For this reason we cannot guarantee 100% nut-free cakes. So, please feel free to consult with our friendly customer service team before placing an order.

All our cakes are Halal. Our cakes do not contain any haram substances such as alcohol or traces of meat.

All our Eggless Flavoured Cakes need to be hand delivered as they are freshly baked and fragile. We offer a door to door delivery, once our driver reaches your door please come out from your door and get the cake from the driver. service in Central and South London. For orders that need to arrive at or by a more specific time please contact us.
Unfortunately due to the costs associated with hand delivery we do have a small delivery charge. Orders can be collected from our store 7days a week. Monday-Saturday 10am-8pm and Sunday 11am-7pm.. Please ensure if arranging your own courier that your driver has the name the order was booked under and the order number when they come to collect.

---